MOXA EDS-2000 SERIES PLUG-AND-PLAY
As industrial automation technologies continue to evolve and improve, the requirements of network infrastructure are constantly changing when refurbishing, expanding, or building new facilities.
To keep up with changing connectivity requirements while saving you time and effort, the EDS-2000 Series unmanaged switches install-and-forget durability and extra compact size design continually meet your demands for flexibility, reliability, and cost-effectiveness. That's why the EDS-2000 Series has already gained widespread positive recognition from industrial automation engineers in the US and Japan since its release in 2020.
Flexibility
Small and slim form factors with 5 to 18 ports options
Gigabit combo ports for versatile uplinks
Up to 2 Gigabit combo ports for fast and flexible uplinks span. (Only Available for the EDS-2000-ML-Series)
Easy Deployment
Qos and BSP by DIP Switch
Automatic warnings for power and port failure (Only available for the EDS-2000-ML-Series)
Multiple DIN-rail mounting options
Install-and-forget durability with high MTBF
Five-year warranty
Power redundancy (Only available for the EDS-2000-ML-Series)
-40 to 75C operating temperature range
Full range of industry certifications (Only available for the EDS-2000-ML-Series)
Using the three aforementioned criteria to evaluate your options can help you find the right unmanaged switches for your industrial applications.
To address the needs of rapidly expanding industrial networks, Moxa has developed a new series of industrial unmanaged Ethernet switches that provides an extra-small footprint and reliability, easy deployment, and flexibility for a variety of industrial applications. If you are interested in learning more about industrial networking.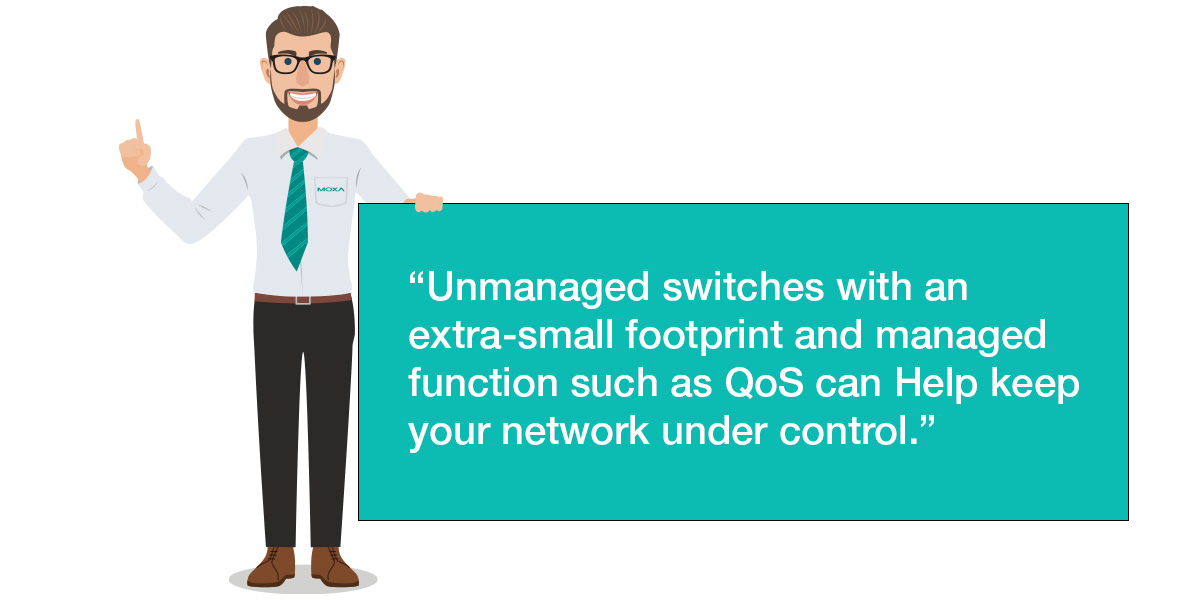 Application: How to Use
The EDS-2000 Series unmanaged switches can be used in most industrial automation field sites such as factory automation, process automation, oil and gas, intelligent transportation, energy management, and mining, which will help you get ahead with rapid and reliable network deployment.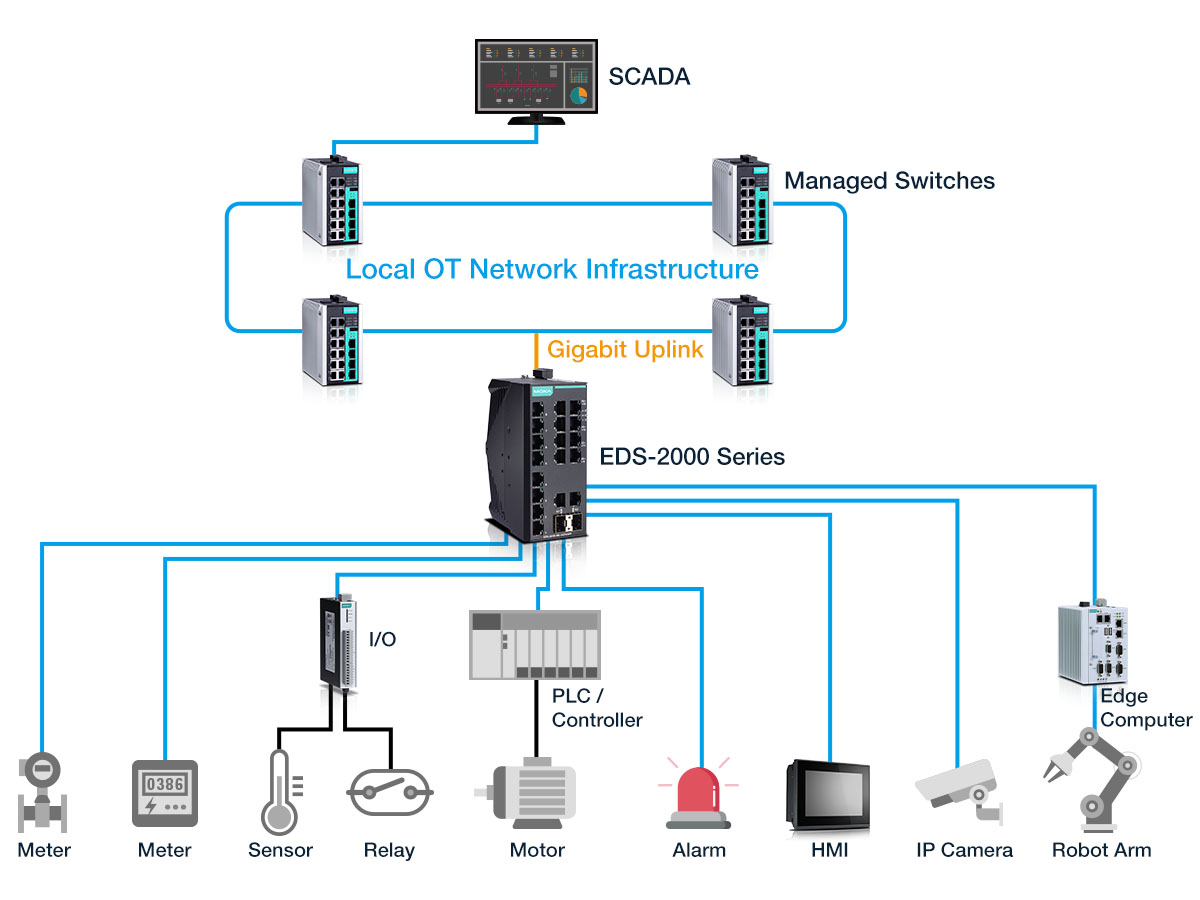 Go Small for Big Gain with the EDS-2000-EL Series
Tap into big opportunities with the tiny EDS-2000-EL Series Ethernet switches. With models almost as small as a credit card but jam-packed with smart features, the EDS-2000-EL Series delivers time and cost savings by facilitating efficient network deployment.
MOXA EDS-2000-EL Series
Industrial Unmanaged Ethernet Switches
5 or 8 Ethernet port options
SC/ST fiber models are available for the EDS-2008 Series
Supports 12/24/48 VDC input
Microsecond-level latency
High EMC resistance
QoS and BSP*** DIP switch configuration